Today, we will discuss some tips to help you on how to become fluent in Spanish without immersion. 
Studying abroad is not that easy. Not only do you need to invest a large amount of money to get it, but you also need to have enough time to leave it all behind to learn a foreign language. 
Sometimes, immersion just does not work for us. What can we do, then? 
Keep reading and find out.
1. Use Spanish anytime, whenever you can 
A good idea on how to become fluent in Spanish without immersion is to use the language in your daily life, anytime you want, without an excuse. 
This means talking to your mother, to your cat, to anyone who is willing to listen. Learn the most common expressions and try to put them into practice whenever you can. 
It is about living the language, keeping it active. In this way, you will work the fluency you need to speak without hesitation, even if what you are saying is not entirely correct. You will break the first barrier of fear that prevents you from learning more. 
2. Go on and speak with a native speaker 
Going abroad is not the only way to speak with a native speaker. Thanks to the Internet, there are thousands of resources you can use to practice your Spanish.
In Wannalisn we have the exciting feature WannaTalk fresh out of the oven. With it, you can have short 15-minute calls with a native teacher. Each lesson will focus on a certain theme, and you will be able to put into practice everything you have learned. 
It's that easy. You will be able to call, from wherever you want, at any time. 
3. Think in Spanish 
Force yourself to even think in Spanish. Turn the thoughts in your native language to Spanish. It is normal and very common to start by translating everything, but after a while, you will find yourself having entire conversations with yourself. 
This way your brain will get used to it, it will be easier for you to create new sentences and to find alternative expressions when you lack some vocabulary. 

4. Read a book you have already read
Reading an entire book in another language for the first time can be a bit intimidating. However, we strongly encourage you to give it a try. Just as thinking and speaking in Spanish will help you to internalize colloquial expressions, this will make it easier for you to understand word order and grammar.   
If it looks a little frightening, the best way to start is by reading a book you have already read in your mother tongue. You will already know what's going on in the story, so it will not be as difficult to get into it.  
5. Give language apps a chance to build your vocab 
Language apps are a great way to keep practicing and enriching your vocabulary. It will only take you 15 minutes a day, and you can see great improvement over the weeks. This is a great way of how to become fluent in Spanish without immersion. 
We remind you that in Wannalisn you have the opportunity to learn in a fun way through your favorite TV shows. In them, you will be able to work on all the skills in Spanish, such as listening, idioms, and speaking. 
6. Listen to music and watch films
Yes, this is the same old advice that everyone gives. But if so many people recommend it, it's because it really works. Nowadays, it is much easier to watch series in the original version, you just have to choose your favorite streaming service and look for an interesting Spanish film. Here you have some classics to start: 
Pan's Labyrinth

, directed by Guillermo del Toro. 

The Platform

, one of the Top 10 films on Netflix when it first came out. 

Verónica

, a scary film set in Madrid's neighborhood Vallecas during the 1990s.

Spanish Affair

, a hilarious romantic comedy that will also allow you to dive into the deepest Spanish traditions. 
Sounds like love,

based on a book of the same name that we also recommend. 
We have talked about films, but music is even a faster way to practice your listening and get used to the Spanish slang. Latin music is becoming increasingly popular, and Spain is also producing incredible songs. 
You probably know already who Rosalia is, but there are many more singers. Here you have a Spotify playlist with the top 50 songs of Spain and here the 50 most viral songs. 
7. Do some exercises to internalize grammar 
We have talked about funny and exciting stuff. Now it is time for some "boring" advice. 
One of the most useful tips but the one that no one wants to hear: practice and do exercises. 
Although it may not sound as entertaining as watching a series, it is an amazing way for you to really learn grammar. By doing exercises frequently, you will internalize it and eventually begin to speak Spanish more fluently. 
Do not forget that you can combine these exercises with language apps like Wannalisn. You will have a fusion of the technical part and the more fun part, which is learning Spanish in an intuitive and entertaining way.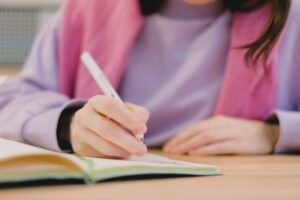 8. Write a journal or a short story
As you will see, all the tips we have given you in this list on how to become fluent in Spanish without immersion are based on changing small day-to-day details. This way, even if you can't go abroad, you can still dive into the language on a day-to-day basis. 
The final point of everything we have been reviewing throughout this post is to start your own journal. Its purpose is to rework the expressions you use on a daily basis, consolidate vocabulary, and practice writing skills. 
Just write down how your day was or things that are special to you. Maybe you can go on and even try to write a short story that you continue every day. It is up to you and what motivates you.
Do not forget that, if you are wondering how to become fluent in Spanish without immersion, in Wannalisn we offer you WannaTalk. Make your first call right now and start practicing from your home, or anywhere you want.